How to create a service
With the Silverstreet Mobile Communicator you can manage your services. Our services offer you functionality to for example send E-mail, SMS or manage your contacts in an address book.
In this tutorial we will explain how you can create a service. Once you have created a service, you can manage the settings of that service. You can find more information on how to manage those settings by clicking on a link of one of the below services.
We offer the following services:
E-mail
Number Lookup
Push
Verification
VMN App
Service list
When you open the services page you will get a list of your existing services.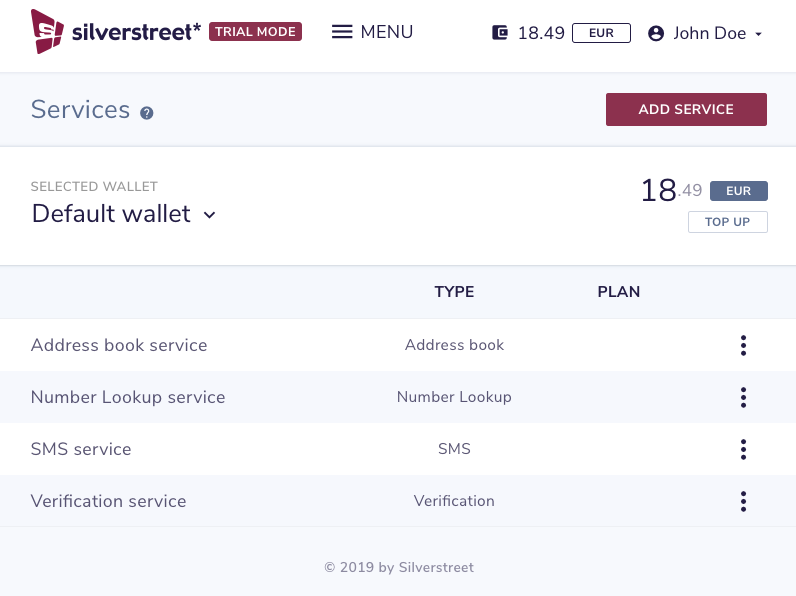 At the top of the list you see your wallet and the balance of your wallet. By clicking on the wallet, you can select a different wallet (if you have any other). Creating a new service is always for the selected wallet. If you want to add a service for a different wallet, first select the other wallet before you continue.
By clicking on a service, you will open the service where you can manage the settings of the service. See above for links to tutorials explaining what you can manage for the various services.
Create a new service
Creating a service is done in a few simple steps. Let's guide you through it step-by-step.
Creating a `Virtual Mobile Number App` service has a different flow, but we will guide you through that flow in the tutorial `How to install the virtual mobile number app`.